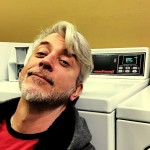 Dan has spent most of his life daydreaming. Along the way he's traveled and lived in a few European countries, raised a family in Hawaii, and recently completed a circle of some sort by returning to the city of his birth (Milwaukee) to live.
He has done a bunch of stuff; primarily being a chef and a dad.
He entertains the notion of being a writer one day, like a real "hey look they're paying me to do this!" writer but currently makes his way cooking food. Once in a while he writes down a story that ends up here to share with you.
Enjoy and thanks for visiting!